Today I'm riding the Hollard JUMA, the Jozi Urban MTB Adventure. I first did this ride two years, partly because my buddy Paul said I couldn't and partly to help him raise money for the cardiology unit at Bara. To be fair, he didn't exactly say I couldn't. He just gave me a very dubious look and said in a meaningful way, "It's very technical, Jen.  Are you sure?"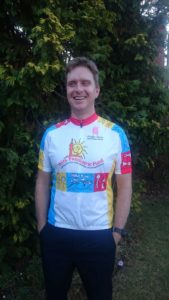 Never one to turn down a challenge I decided there was nothing that was going to stop me doing that race. And of course I wanted to help raise money for the cardiology unit because they do great work and the people there are phenomenal.  At the end of my cardiology rotation when I was training to become a paediatrician, the head of cardiology said something to me like, "I'm sure you won't be considering cardiology as a career" and it was a measure of my respect for her as a clinician and a researcher that I agreed cheerfully with her that cardiology was not my forte. And then later helped to raise money for her unit.
Last year I did that crazy Telkom 947… and you guys helped me raise over R133 000 for childhood cancer research. Did I mention that you're awesome?
Today I'm not riding for another paediatric unit or even my own. I'm just riding for me, for the sheer joy of it. I haven't done any real training, I haven't stressed at all, I'm not feeling the pressure of finishing so that I don't make a fool of myself publically. I'm not angsting as I did before the Telkom 947 that I wouldn't reach my target – I stressed so much I got fever blisters! Ridiculous I know, but that's how much it meant to me to not let my people down. I was so grateful to all the people who contributed (chief among them my super uncle Nasty) that I was terrified of failing. I have problem knees and the Tuesday before the race I told my therapist, "I've been saving my knees for this race. Once I'm there, I don't care how sore they get, I will FINISH that race if it kills me!" She raised her eyes to heaven of course – what do I pay her for, after all? I vowed to fight off any hopeful sweepers with my bare hands if I had to, and luckily I didn't have to. I made it in plenty of time – I was rider 3450 or 3500 females, after all.
This time I'ma jus' gon' chill. I'ma gon' have me some fun!
Sometimes cancer docs just have to breathe and enjoy Nature, and that's what I'm going to do. See you on the other side.
Next year my friends, watch out! We are going to form a huge team and ride to raise awareness and money to do  more childhood cancer research! You know who you are…