I am a shattered shell, a hollow husk. A shadow of my former self (unfortunately not physically – still got loads of work to do to be lighter on the bike). "What's wrong?" you enquire. How kind of you to ask.
The answer, my friends, is that I have been single-parenting for the last few days. Or aeons, as it feels. Big up to the all the real single parents out there – I don't know how you do it. My better half and Supernanny have both been away during the first week back at school. Bad planning, you say and  I agree. The wheels have come off. The rules are long-forgotten. We're doing screen time galore and two minute noodles for supper. The teacher sends cute little notes like this: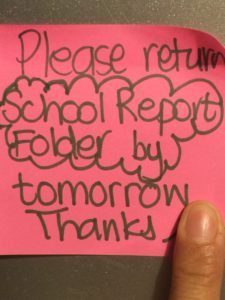 which I ignore. Which tomorrow are we talking about? I've heard there are planets on which their day is our week, so you can have it tomorrow on Neptune, maybe. We've lost the homework diary and I just can't bring myself to care. And the absolute worst: there is no real coffee in the house. Tomorrow I am planning to scrape some of the chunks of instant coffee out of the jar and have it with the condensed milk that has been sitting, opened but covered, in the fridge for about three weeks.
Of course this is the week in which I chair a meeting of the childhood cancer plan working group and attend a meeting of cancer stakeholders to thrash out the last few points of the national cancer plan. Despite the chaos in my personal life, I managed to get to Pretoria on time one day and find my way to the NHLS in Modderfontein the next day – triumph! Google Maps conquered the forces of evil, aka my legendary sense of direction.
After both of these meetings I came away with a sense of hope. I was inspired by the talent in the room. I felt so privileged to be sitting shoulder-to-shoulder with such talented, dedicated individuals who were giving their time and energy for this great cause.   I'll take the kids cancer one as an example. We had representatives of the SACCSG, the Colleges of Medicine, CHOC, the Medicines Control Council (SAHPRA), palliative care, surgery, radiotherapy, the Children's Tumour Registry  and allied health professionals. And of course, paediatric oncologists. I was expecting a fiery meeting with lots of debate and conflict, and I was pleasantly surprised. We all seem to be on the same page. The bottom line is that we want to save the lives of children with cancer, and make sure that everyone is treated is treated with dignity and no one suffers. Not too much to ask, right?
Call me naïve, but I think there is hope for the cancer situation in our region.
Oh crap! Just remembered I have to make muffins for Sports Day tomorrow. My better half left strict instructions and a packet of muffin mix and I still nearly forgot. I contemplate just losing it, but come to my senses. She said five minutes to mix and it really was. Literally. There was some nonsense on the class what's app group about bringing goodies and a list of ingredients. Well, for those of us lucky enough to have a packet of muffin mix in the cupboard – voila! I shall just cut out the list of ingredients on the side and sticky-tape it to the container. Just following orders, ma'am.