Unbelievably, The target has been reached. I set out with the very ambitious aim of raising R100 000 for childhood cancer research, thinking, oh, we did it last year through the Wits Paediatric Fund for the cardiology unit at Bara. We aimed to make R100 000 and we exceeded that target and kitted out the cath lab so that my friends and colleagues could carry on doing their sterling work safely.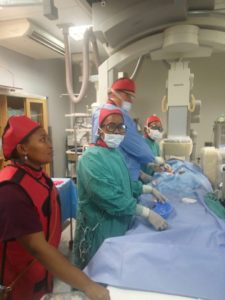 Easy peasy lemon squeezy. That was my memory of it. Probably a bit like my memory of childbirth…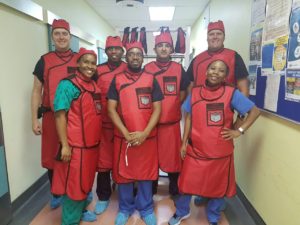 What I forgot was that there were a few of us riding for the same goal, and I was just the hanger-on. I was a nobody who decided at the last moment to join the team just because someone said I probably shouldn't do it. It was the Hollard Juma, and he said, "It's a bit technical, you know". So of course I thought, "If he says I can't then that means I must. Technical schmechnical."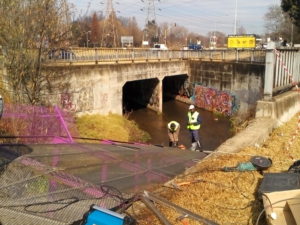 My buddies kept talking about "drop-offs"and saying I needed to practise them to do the JUMA. Well, I still don't know what a drop-off is, and I don't think I want to know. They sound scary. Our fundraising efforts were also aided by the weather – three days before the race a monster storm washed away half the course and we had to reschedule. This gave us even more time to fundraise. As I said, I  was a nobody in the race – it was my two buddies Charl and Paul who came up with the plan and who pushed it through and schmoozed and made nice. I just supported them on Facebook (sooooo much easier to support someone else than to blow your own trumpet) and praised them so people would give us money. A whole bunch of other people rode and ran and supported and we got to the total amount with a big team and perhaps a year of preparation.
Oh ja, and I did finish the 22km version of the JUMA had a blast. Here's me with the renowned author and Afrikaner intellectual Christi van der Westhuizen: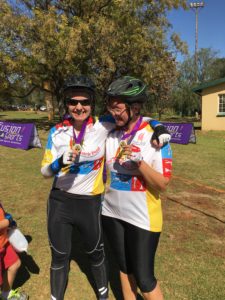 On top of all her other achievements, she's a mean cyclist and a great partner on this kind of race. She was much better than me and could have raced ahead but she stuck with me and got me through. I'm putting her at the top of the list for next year's crew – yes, we will have a crew. This year I got to R107 000 with a team of one, presuming heavily on the generosity of family and friends. And boy, did you come through! I was hoping to get lots of people to give small amounts, and what I got instead was some large donations and some very large donations. I am blown away with the generosity of people.
On top of the freely given and out-of-the-blue donations from so many people, there are the good-natured people who gave me money when I out out my hand asking for it. Another renowned author, Melissa Myambo, who manages to travel the world on a shoestring budget, cheerfully whipped out her wallet when I demanded cash for the cause.
Now that I've reached the target, I am much calmer. I realised a couple of weeks ago that perhaps I had been a  little foolhardy, aiming so high and putting it out there so publicly. As it turns out, if I hadn't put it out there, I wouldn't have reached a hundred grand. My lovely family made such a difference, without my even asking them. And yes, I do realise it's a form of white privilege – more about that another time, if you don't mind.
Bottom line is – if I could raise more than a hundred grand from my little circle of family and friends and colleagues in about two months, how far could we go with a proper team of people, some planning and more time? Watch this space people: this time next year, we will have made a difference. I have a dream team in my head, people I'm going to invite to ride with us next year. Not just the 947 cycle challenge but a bunch of other events to raise money and awareness. So if I approach you with an evil glint in my eye, I hope you good-naturedly sign up to be part of the team that changes the face of childhood cancer in South Africa forever.